What is LoRa® ?
LoRa® is the physical layer or the wireless modulation utilized to create the long range communication link. Many legacy wireless systems use frequency shifting keying (FSK) modulation as the physical layer because it is a very efficient modulation for achieving low power. LoRa® is based on chirp spread spectrum modulation, which maintains the same low power characteristics as FSK modulation but significantly increases the communication range. Chirp spread spectrum has been used in military and space communication for decades due to the long communication distances that can be achieved and robustness to interference, but LoRa® is the first low cost implementation for commercial usage.
Aptinex LoRaSHIELD Series
Aptinex LoRaSHIELD series is a set of LoRa technology enabled shields for Arduino , Rasberry Pi and other popular platforms . The main aspect is to combine the power of LoRa with those platforms.
Aptinex RN2483A LoRaSHIELD For Raspberry Pi3
Aptinex RN2483A LoRaSHIELD for Raspberry Pi3 is the first product of LoRaSHIELD series.  Microchip RN2483A has been used as a shield which is plug-able to the RPI3. All the pins of the RN2483A can be accessed through the pin headers. Because of the special shape that we have designed this LoRaSHIELD all the peripherals of Raspberry Pi can be also accessed without any interruption .
Top View
Back View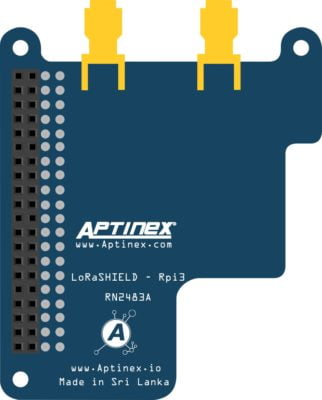 Pin Configuration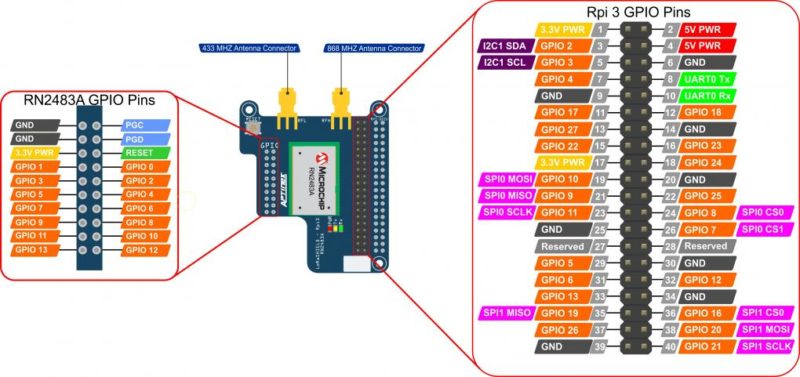 General Features
PCB Dimension : 8.5 cm x 5.6 cm (Overall Dimension as same as RPI3)
All pins of RN2483A and  RPI3 can be accessed via the on-board pin headers
Power Supply : Through the RPI3 GPIO Connector
LED Indicators for Power, RX and TX
Microchip RN2483 General Data
Type: Sub-GHz
Power Output: 14 dBm
Temperature range: -40°C to +85°C
Interface: UART
Pin Count: 47
RF Module : Yes
RF Transceiver: Yes
Frequency Range : 434, 868 MHz
Input Sensitivity : -146 dBm
TX Current Consumption : 40 mA (14dBm, 868MHz)
RX Current Consumption : 14.2 mA
Operating Voltage : 3.3V DC
Package Contains :
1 unit of Aptinex RN2483A LoRaSHIELD for RPI3
2 Antennas for 433Mhz and 868Mhz
Microchip RN2483 Operational Data
On-board LoRaWAN™ Class A protocol stack
ASCII command interface over UART
Temperature range: -40°C to +85°C
Programmable RF Communication Bit Rate up to 300 kbps with FSK modulation, 5468 bps with LoRa™ Technology modulation
Integrated MCU, Crystal, EUI-64 Node Identity Serial EEPROM, Radio Transceiver with Analog Front End, Matching Circuitry
14 GPIOs for control and status
Microchip RN2483 RF/Analog Features
Low-Power Long Range Transceiver operating in the 433 MHz and 868 MHz frequency bands
High Receiver Sensitivity: down to -146 dBm
TX Power: adjustable up to +14 dBm high efficiency PA
FSK, GFSK, and LoRa Technology modulation
IIP3 = -11 dBm
>15 km coverage at suburban and >5 km coverage at urban area